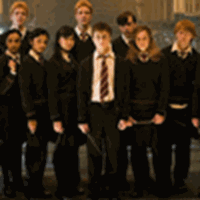 'Order of the Phoenix'
Update: New interviews with Matthew, Bonnie, Evanna & Katie
June 18, 2007 at 2:46 PM ET
Geri HPANA

harry potter and the order of the phoenix movie, order of the phoenix movie, ootp movie, evanna lynch, matthew lewis, bonnie wright, katie leung
---
Two new interviews with Harry Potter actors Bonnie Wright (Ginny Weasley), Matthew Lewis (Neville Longbottom), Katie Leung (Cho Chung) and Evanna Lynch (Luna Lovegood) in which each of them discuss their characters and the movies have appeared online.
In the first interview

each discuss their characters:
Katie on Cho being in the next film:
Will you be in the next Harry Potter film?
Katie: I don't think so. Cho's mentioned briefly in the books, but they try to cram so much into the films that I don't think there'll be room for her.
Matthew Lewis on his character, Neville:
Will you be upset if Neville gets killed off?
Matthew: I would like him to live. But as long as he dies in a righteous and heroic way, I'll be happy.
Evanna Lynch on Luna Lovegood:
What would you like to happen to your character in the last book?
Evanna: I can't really say too much, because JK Rowling has told me some things about what happens to Luna. I would like to see her find more people like her though. Harry, Ron and Hermione all really like her, but they don't really get her.
Bonnie Wright discusses her character, Ginny Weasley:
How would you like your character to end up?
Bonnie: I would like to see her join Harry in his quest to fight Voldemort. I don't think he should have to go it alone.
In the second interview

with Bonnie, Evanna and Matthew they all mention working on the Harry Potter and the Order of the Phoenix movie as well as working with Helena Bonham Carter and more on their characters.
UPDATE: Thanks to Patrice for letting us know that a video interview featuring Matthew, Bonnie, Evanna and Katie here

on YouTube in which they all talk about the movie.
UPDATE II: An additional additional

with the above mentioned actors from the BBC has also appeared online.