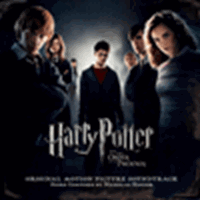 'OotP' soundtrack
Listen to a preview of 'Order of the Phoenix' soundtrack
June 16, 2007 at 11:19 PM ET
Geri HPANA

harry potter and the order of the phoenix movie, order of the phoenix movie, ootp movie, nicholas hooper
---
With the release of the Harry Potter and the Order of the Phoenix soundtrack just weeks away on July 10th, you can now listen

to a preview of each of the tracks as well as read a brief description of each (you must have Quicktime to listen to each of the samples).
A brief snippet from the article:
The score to Harry Potter and the Order of the Phoenix has two prominent new themes: the Professor Umbidge Theme, and the Possession Theme. There also appears to be a recurring motif for Dumbledore's Army, and a few other bits and pieces that turn up a few times, as well as an orchestrational wink-and-nod to some of Williams' previous themes.
You can pre-order

the album through Amazon. Thanks to Shannon for the link.