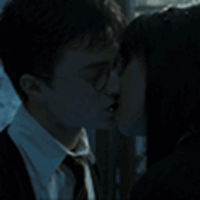 Harry & Cho
Katie Leung discusses 'Order of the Phoenix' & life
June 15, 2007 at 8:29 PM ET
Geri HPANA (via The Scotsman)

harry potter and the order of the phoenix movie, order of the phoenix movie, ootp movie, katie leung
---
In a new interview

with Harry Potter actress Katie Leung (Cho Chang) discusses the movie, moving to London, being recognized on the streets and applying to London Universities.
Katie on kissing Daniel:
Of course I was nervous about it. I blame it on the crew because they made it impossible for me to forget. Every day, somebody would come up and say things like 'Are you looking forward to it?' Or Euwww, it's going to be really wet!
He [Dan] admitted that he was nervous too, which made me feel better because I was a bag of nerves. We joked around, saying 'Have you brushed your teeth?' and 'Have you eaten your mints?' So we were much more relaxed when we came to do it.
Katie mentions her favorite scene:
I'm not fond of nosey people, so I loved the one in The Curse of the Half-Blood Prince. It is called Muffliato, and you cast it on people who are trying to listen in. It fills the ears of those near the witch or wizard with a buzzing that can't be heard by anyone else. It would be great to be able to do that one.