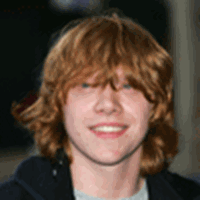 Rupert Grint
Update: New images of Rupert & Emma
June 13, 2007 at 7:48 AM ET
Geri HPANA

emma watson, rupert grint
---
New images of Harry Potter stars Emma Watson and Rupert Grint have appeared online.
Images from a Bulgarian magazine photo shoot of Emma can be seen here

courtesy of EW.net

.
While Rupert attended

yesterday's premiere of The Fantastic Four: Rise of the Silver Sufer in London courtesy of RG.net

.
UPDATE: You can see video of Rupert from the premiere here

.