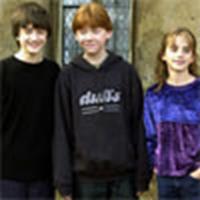 Trio in 2001
Evolution of the 'Potter' trio's style
June 6, 2007 at 3:45 PM ET
Cheeser HPANA (via Teen Vogue)

dan radcliffe, daniel radcliffe, emma watson, rupert grint, harry potter, harry potter trio, harry potter actors, harry potter stars, harry potter kids
---
Teen Vogue has let us know they've published a fashion timeline

examining the style of actors Daniel Radcliffe, Rupert Grint and Emma Watson over the past many years (starting in 2001).
The magazine is also now offering a free poster of the trio exclusively for new subscribers

. This month's issue features the trio on the magazine's cover.
Finally, they've posted a Harry Potter quiz

to test your knowledge of the stars.