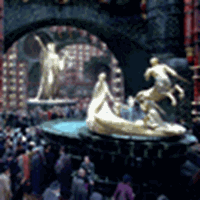 Ministry of Magic
Another set report from 'Order of the Phoenix'; Tom Felton speaks of Draco
June 2, 2007 at 10:51 AM ET
Geri HPANA

harry potter and the order of the phoenix movie, order of the phoenix movie, ootp movie, daniel radcliffe, dan radciffe, david heyman, stuart craig, tom felton
---
In yet another set report

from the Harry Potter and the Order of the Phoenix movie we learn that David Heyman

refers to the movie set as "...a little city" and thinks that bringing new directors to the franchise brings some freshness to them.
We also find out that Dan Radcliffe is thinking about life after movies, Rupert Grint mentions working with Goblet of Fire director Mike Newell and that set designer Stuart Craig

took inspiration from the most unlikely settings for the design of the Ministry of Magic.
Thanks to DR.co.uk

for the link.
Also thanks to Shannon for letting us know of an interview

that Tom Felton did recently in which he mentions that he hopes his character (Draco Malfoy) goes out with a bang.