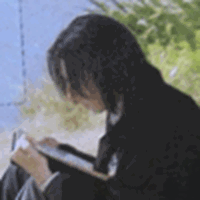 Young Snape from 'OotP'
Update: New scans from 'Order of the Phoenix' sticker book
May 28, 2007 at 7:08 PM ET
Geri HPANA

harry potter and the order of the phoenix movie, order of the phoenix movie, ootp movie
---
Some new scans from Scholastic's sticker book featuring images from the Harry Potter and the Order of the Phoenix movie have appeared online.
The new scans show us a young Snape, Harry and Ron, Luna and many more. You can view the scans here

and here

.
Thanks to Portkey.it

for the news.
UPDATE: Thanks again to Portkey for letting us know that they have added additional scans from the sticker book to their galleries, which you can view here

.
UPDATE II: Thanks to HPFZ for letting us know that you can see more scans here

.