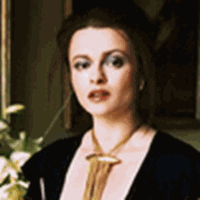 Helena Bonham Carter
Helena Bonham Carter says "it's fun to be a witch"
May 11, 2007 at 7:36 PM ET
Geri HPANA (via The Telegraph)

harry potter and the order of the phoenix movie, order of the phoenix movie, ootp movie, helena bonham carter
---
Helena Bonham Carter, who will play Bellatrix Lestrange in Harry Potter and the Order of the Phoenix mentions briefly her stint on the set filming the movie in a new

interview.
I had five lines in that. I think they cut three of them - and I was there for six weeks. I don't know quite how, still, to this day, I was there for that long. It really is 90 per cent waiting. I mean, nice waiting - waiting's OK if you've got a trailer. I just sleep. I'm a very good sleeper. And it is quite amazing to meet all these old actors. It's like a rest-home for British Equity, and we're all lying around and chatting. You can't look to huge job satisfaction, but it's nice to be part of it. And it's fun to be a witch.
UPDATE: In another interview

she says much the same thing about filming Order of the Phoenix but adds that she plays a "mad, sadistic witch."