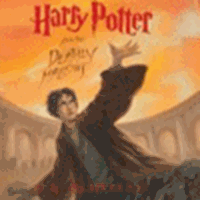 'Deathly Hallows' cover
Amazon.com reaches 1 million pre-orders worldwide of 'HPDH'
May 8, 2007 at 7:10 AM ET
Geri Yahoo! News (via Business Wire via Yahoo! Finance)

harry potter and the deathly hallows, hpdh, deathly hallows, hp7
---
With nearly 11 weeks to go till the release of Harry Potter and the Deathly Hallows Amazon.com announced

this morning that it has taken more than 1 million pre-orders worldwide and that it has lowered the price once again for the book.
In 2005, pre-orders for the sixth book, Harry Potter and the Half-Blood Prince, didn't reach the 1 million worldwide mark at Amazon until 174 days after the book was first available for pre-order. It took just 95 days to reach that mark for the seventh book. In the U.S. alone, more than 620,000 copies of Harry Potter and the Deathly Hallows have already been pre-ordered while the company's site in the U.K. has now surpassed 250,000 pre-orders.
You can go directly to Amazon.com

to pre-order the book.