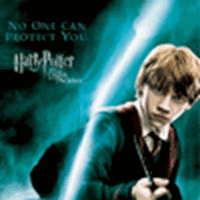 Ron poster
New 'OotP' posters
May 2, 2007 at 8:46 PM ET
Geri HPANA

harry potter and the order of the phoenix, order of the phoenix movie, harry potter 5 movie
---
Three new Harry Potter and the Order of the Phoenix movie posters have appeared online. The new posters feature shots of Harry and Voldemort, Hermione and Umbridge and Ron and Lucius Malfoy, the last shows Neville, Ginny, Luna, Hermione, Ron and Harry.
Click here to see our posters gallery!
Thanks to Mugglethai

for the new images.
UPDATE: Thanks to Alex

for sending over another image of a poster with Harry, Hermione, Ron, Neville, Luna and Ginny. You can see the poster here

.