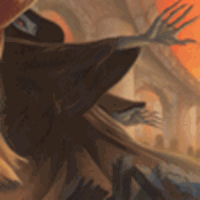 HPDH back cover
Scholastic asks "Is Snape Good or Evil?"
May 1, 2007 at 7:52 AM ET
Geri HPANA

harry potter and the deathly hallows, hpdh, deathly hallows, scholastic
---
Scholastic continues with their Harry Potter and the Deathly Hallows publicity campaign by posting

question two of seven on their site: "Is Snape Good or Evil?"
You can go to the site to make your choice:
Good and still a spy for the Order of the Phoenix
Good but in too deep with Voldemort
Evil and has always been a spy for Voldemort
Evil but only because Voldemort is back
The next question will be released on Tuesday, May 15th.
7 Questions of Harry Potter campaign - Beginning on April 17, 2007, Scholastic will release one question every two weeks. These are the big questions fans debate at great length online, at book clubs and in everyday conversations, and that they hope J.K. Rowling will answer in this final installment. The questions will be posted on scholastic.com and released through advertising and publicity outlets. The final question will be released on July 7th.
Scholastic have also added to the site that the deluxe edition of the book will have

816 pages and include Mary GrandPré's interior art, as well as never-before-seen full-color frontispiece art on special paper. Thanks to HPFZ

for the news.