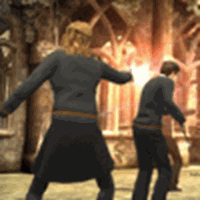 'OotP' video game
More news on 'Order' video game
April 27, 2007 at 8:01 AM ET
Geri HPANA (via IGN)

harry potter and the order of the phoenix game, order of the phoenix game, ootp game, ea games
---
In a follow-up interview

with EA Games

executive producer, Harvey Elliott, Mr. Elliott gives Harry Potter fans additional information on the Order of the Phoenix video game. In this new interview he mentions that the game is darker than previous ones and discusses the missions the characters embark on.
IGN: What are some of the missions that Harry and friends will embark upon in this latest Potter adventure?
Harvey Elliott: We have some really cool missions this year, ranging in scale and style. Some are dramatic, some make you laugh, some are quick to complete, some take longer and have multiple parts. One of my personal favourites is collecting Colin Creavey's camera, involving moving a bench, burning a plant, repairing a drainpipe and a ledge and then levitating the camera - with some hysterical dialog from Colin who is Harry's biggest fan. There's a brilliant wizard battle at the Stone Circle (just up from Hagrid's Hut) where its 6 against 6 - the screen is just filled with magic being cast in all directions, a bit like fireworks display. When Professor Umbridge takes control of the school, there's a whole series of "prank" missions involving turning courtyards into swamps and messing around with the tannoy system.
UPDATE: An additional

interview and two new screenshots of the game is available where Mr. Elliott discusses following the story of the movie and working with the film's producers.
Game Spot: Are the film's actors involved in the game in any way?
Harvey Elliott: We're fortunate that pretty much all the kids in the movie love video games, so it doesn't take much asking to get them down to our studio to scan their faces or capture their voices. The adult actors have also been to visit us, but I think they're more intrigued by the whole process than the hardcore gamers! Just to give some insight into the complexity of the process, we are making the game in 22 languages this year (which I think is a games industry record), and that means that we not only have to get each of the actors into the studio to record their characters voice for the US and UK versions of the game, but we need to get each of their movie voice-over doubles from Germany, France, Italy, Spain, and so on. All in all, across all the languages, we've had around 1,500 actors recording lines for this game!
Thanks to Elijah for the new interview.