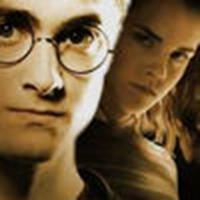 Harry & Hermione
Exclusive: 'Dumbledore's Army' official site preview
April 24, 2007 at 4:34 PM ET
Cheeser HPANA

harry potter and the order of the phoenix, order of the phoenix, dumbledore's army, defense against the dark arts, dark arts defense, dark arts defence
---
Warner Bros. has given us a special treat today, being the first in the world to preview a new official web site for Harry Potter and the Order of the Phoenix, dubbed "Dumbledore's Army."
Click here for a screenshot of the new home page
Click here for a screenshot of Dark Arts Defense
Voldemort is back! Join Dumbledore's Army to help defend the wizarding community.
Register as a D.A. member for exclusive wallpapers, skins, images and banners and play Dark Arts Defence to practice your spells and charms. Once you've mastered them, log in to duel against others in a multiplayer version of the game.
UPDATE: The site

is now online.