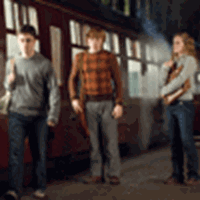 Harry, Ron & Hermione
EW talks about 'OotP' in summer movie preview
April 20, 2007 at 2:36 PM ET
Geri HPANA

harry potter and the order of the phoenix movie, order of the phoenix movie
---
In this week's issue of Entertainment Weekly

there is a two-page article on Harry Potter and the Order of the Phoenix.
The brief article includes a new picture of Harry, Ron and Hermione and discusses the movie, director David Yates and Prof. Umbridge.
You can read the article here

.
This week's issue is currently on newsstands.
UPDATE: Thanks to Warner Bros. for sending over the high-resolution image that was featured in Entertainment Weekly, you can view it here

in our galleries.