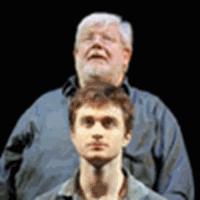 Griffiths & Radcliffe
'Equus' with Radcliffe & Griffiths to come to Broadway?
April 20, 2007 at 10:18 AM ET
Geri BBC

daniel radcliffe, dan radcliffe, richard griffiths, equus
---
We have been receiving emails all morning letting us know that Harry Potter actors Daniel Radcliffe and Richard Griffiths are planning

to take the current production of Equus, which closes on June 9th on London's West End, to Broadway in 2008.
Please note that both Dan and Richard were only scheduled to participate in the play till June 9th and recent speculation of extending the run with new actors has previously been reported online and have subsequently been denied.
We are trying to have this news confirmed and will update once we know more.