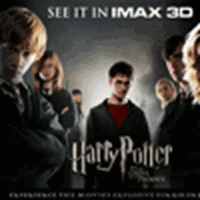 IMAX poster
Final 20 mins of 'OotP' in IMAX 3D
April 19, 2007 at 8:00 AM ET
Geri HPANA (via PRNewswire)

harry potter and the order of the phoenix movie, order of the phoenix movie, ootp movie
---
According to a press release

this morning, IMAX will be transforming approximately 20 minutes at the end of Harry Potter and the Order of the Phoenix from 2D to 3D.
Dan Fellman, President of Domestic Distribution, Warner Bros. Pictures said:
We are so pleased to be bringing audiences yet another outstanding Harry Potter film to the big screen in both 35mm and IMAX theaters. This is the Studio's biggest franchise to date, and we expect this highly-anticipated fifth film to play phenomenally well in all theaters throughout the summer.
Veronika Kwan-Rubinek, President of Distribution, Warner Bros. Pictures International added:
The Harry Potter films are an enormous draw all over the world, and this film should prove to be no different. The last 20 minutes in IMAX 3D will add a new element of excitement to the Harry Potter experience, making this a must-see for fans of all ages. We're looking forward to a long and very successful run.
The movie will be released

in IMAX and conventional theatres on July 13, 2007.
UPDATE: A new poster from the movie from IMAX has appeared

online courtesy of TLC

.