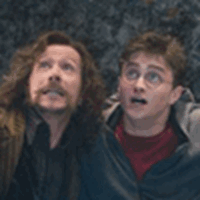 Sirius & Harry
Two new images from 'Order of the Phoenix'
April 19, 2007 at 7:27 AM ET
Geri HPANA (via News Tip)

harry potter and the order of the phoenix movie, order of the phoenix movie, ootp movie
---
Two new images

from Harry Potter and the Order of the Phoenix from a Norwegian net magazine have appeared online. The images show Sirius and Harry, as well as a new one of Prof. Umbridge with Filch.
Thanks to Carina for the link.
UPDATE: Due to overload on the originating site you can now view the new images starting here

in our gallery.