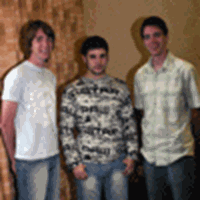 Stan & Phelps twins
New interview with Phelps twins & Stanislav Ianevski
April 16, 2007 at 6:09 PM ET
Geri HPANA

james phelps, oliver phelps, stanislav ianevski
---
Harry Potter cast members Stanislav Ianevski (Krum), James and Oliver Phelps (Fred and George) attended this past weekend's Grand Slam: Sci-Fi Summit 2007 in Los Angeles. They all sat down and talked about their characters, fans, comment on the fifth movie (giving nothing away) and the last book.
The twins also discuss briefly what they are doing next and Stan mentions that he just finished filming Hostel 2.
You can view the video here

and view some pictures of them here

(just scroll down the page), courtesy of IESB

.