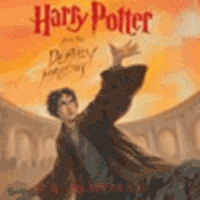 'Deathly Hallows'
100 days until 'Harry Potter and the Deathly Hallows' is released
April 12, 2007 at 7:00 PM ET
Geri Yahoo! News (via Business Wire via Yahoo! Finance)

harry potter and the deathly hallows, hpdh, deathly hallows, hp7
---
With 100 days to go before the July 21st release date for Harry Potter and the Deathly Hallows pre-orders for the book have broken all records with the largest numbers of pre-orders in Barnes & Noble history

.
Barnes & Noble has received more than 500,000 pre-orders and expects this number to surpass one million. The book has been ranked number one on B&N

since it became available for pre-order on February 1, 2007. Thousands of fans are also participating in B&N's book club

and throughout April, George Beahm, author of Muggles and Magic and Fact, Fiction, and Folklore in Harry Potter's World, will also join in the discussions.