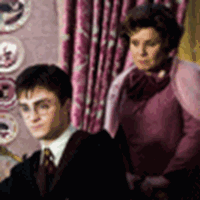 Harry & Umbridge
Staunton 'not so pretty in pink' as Umbridge & new photo
April 7, 2007 at 7:58 PM ET
Geri HPANA (via MSNBC Newsweek)

harry potter and the order of the phoenix movie, order of the phoenix movie, ootp movie, david heyman, jason isaacs, imelda staunton
---
In a short

interview with Imelda Staunton (Prof. Umbridge) and Jason Isaacs (Lucius Malfoy) from Harry Potter and the Order of the Phoenix movie, Imelda discusses taking the role and Jason mentions the British actors who are in the movies and others who are just vying for a role. Also in the piece David Heyman briefly touches on the recent decision of Emma to continue with the movies.
Ms. Staunton discusses her role all in pink and how a friend suggested that she would be perfect for the role:
"I read the book, and Umbridge is described as short, ugly, toadlike woman," Staunton says. "I thought, 'Oh, thanks'." Staunton plays her as an apple-cheeked scholmarm - drenched in pink angora - who is restricting freedoms (and free thought) to "protect" the students. "There can't be any mess or any individuality," Staunton says. "But, of course, that leads to brainwashed people."
Jason Isaacs says of the movies:
Every great British actor is either in the movies or desperate to get into them. It's a real badge of honor. You either know somebody, or you know somebody who slept with them.
David Heyman briefly mentions Emma and her decision to continue with the movies:
She's a very considered young lady trying to figure out what the next three years of her life are going to be. Clearly, we wanted her back, but it was important that she make this decision for herself without any undue pressure.
UPDATE: We now have the photo, courtesy of Warner Bros., that accompanied the article featuring

Harry and Prof. Umbridge.