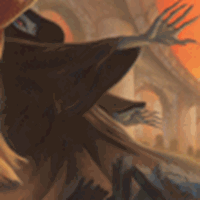 'Deathly Hallows' cover
No peeking at 'Deathly Hallows' till July 21
April 6, 2007 at 9:03 AM ET
Geri Yahoo! News (via Fox News)

harry potter and the deathly hallows, hpdh, deathly hallows, scholastic
---
With Harry Potter and the Deathly Hallows scheduled for release in a little of over 3 months, libraries in the U.S. have had some restrictions

placed on them by the publishers of the book. Libraries must sign a contract stating that if they fail to keep the book under wraps until July 21 they could get scratched from future embargoed titles.
The contract states in part:
We acknowledge and agree that any such violation will cause irreparable harm to Scholastic and the author, J.K. Rowling, and that monetary damages will be inadequate to compensate for violations.
Scholastic spokeswoman Kyle Good said:
When you have a print run of 12 million books that you're sending out into the world, just in the U.S. alone, and you do want to preserve a very special moment for children, you take whatever precautions you need.
Hopefully we won't see excerpts online before the release date and to ensure that HPANA will have some precautions placed on the site, we will be announcing them on the main news page shortly before the release. Stay tuned.