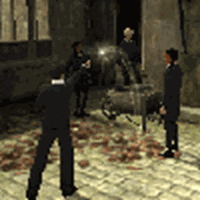 'OotP' video game screenshot
EA Associate Producer talks about 'OotP' video game
April 4, 2007 at 8:36 PM ET
Geri HPANA (via Games Radar)

harry potter and the order of the phoenix game, order of the phoenix game, ootp game, ea games
---
In an brief interview

with Justin Manning, EA

Associate Producer of the Harry Potter and the Order of the Phoenix video game he talks about the feedback they receive from fans, what players can do and different versions of the games.
We quite liked the on-rails levels last year - the dragon chase, the swimming and so on. Will they return?
Manning: Order of the Phoenix is more of a mission-based experience where the player can choose where they go and when they go there. There is always choice. The only times where the game becomes linear are for specific movie-based highlight moments such as when Fred and George fly out of Hogwarts.
The game will be released a week before the movie and will be available on the following platforms: PSP, GBA, Nintendo DS, PS2, PC, Xbox 360, PS3 and the Nintendo Wii.