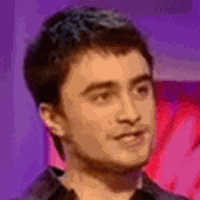 Dan on Jonathan Ross
Dan discusses 'Equus' & 'Potter' on UK show
March 23, 2007 at 10:40 AM ET
Geri HPANA (via News Tip)

daniel radcliffe, dan radcliffe, friday night with jonathon ross
---
Later tonight in the UK Harry Potter actor Daniel Radcliffe will appear

on the first show of the new season of Friday Night With Jonathan Ross on BBC1. Dan will discuss his most recent role in Equus as well as the Harry Potter movies.
Dan on taking the role of Alan in Equus:
It's not that I want to distance myself from Harry Potter, the whole point of doing something different is to show that you can, so hopefully it's achieved that... in any case, given this opportunity, you would be really dumb to turn it down.
Dan on the Harry Potter movies:
I'm going to do all seven, I was 11 at the start and I'll be 20 by the end... I genuinely think these films have got better and better.
Thanks to Ryan and Marie for the link and if you have a chance to capture the show please let us know.
UPDATE: You can watch the show here

courtesy of The Snitch

(please remember to right click & save target as ...). Please note that this interview contains adult content. Thanks Mark.