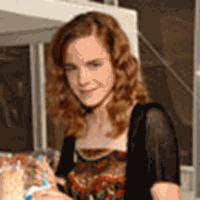 Emma Watson
WB: "confident that Emma will be back"
March 18, 2007 at 9:55 AM ET
Geri CBBC Newsround

emma watson, harry potter movies
---
Recent tabloid reports this weekend have reported that Harry Potter actress Emma Watson had signed to do the remaining movies, yet others reporting that she had resigned from the role. This morning Warner Bros. stated

"We're extremely confident that Emma will be back for films six and seven."
Which means that any reports about her either signing on or leaving are rumors and not to believed until official word from Warner Bros. is reported. She is expected to sign her new contract soon.
Thanks to everyone who emailed over the weekend.