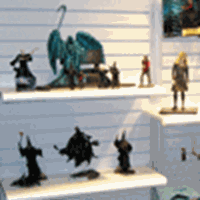 NECA's products
Review of NECA 'Potter' toys
March 9, 2007 at 12:12 PM ET
Geri The Leaky Cauldron (via MWC Toys)

neca merchandise, harry potter merchandise
---
A review

of NECA's new

Harry Potter action figures is now available online and while the author favors some aspects of the figures he only gives the Harry and Dementor figures three out of four stars saying in part:
Dopey Deatheater is never going to be a favorite for me because of that expression. Having one less accessory doesn't help either, since the body, arms and base are all reused.
Finally, there's our hero Harry. As much as I love the head sculpt, those damn glasses are just too distracting. Had they managed to capture the right size, he would have gotten a much better score. Of course, the lack of accessories at this price point would still hold him back from four star nirvana, but let's be honest - this is easily the finest Harry action figure so far.