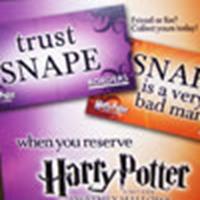 'HPDH' bookstore ads
'Deathly Hallows' bookstore advertisements
February 21, 2007 at 9:24 PM ET
Geri HPANA

harry potter and the deathly hallows, deathly hallows, hpdh, book 7
---
It would seem that the publicity machine for Harry Potter and the Deathly Hallows is starting to produce floor and desk adverts for bookstores.
You can see some pictures here

of the items appearing in Borders bookstores.
Thanks to Amanda for the pictures and if anyone else would like to forward any they see, please do so.
Thanks to TLC

for letting us know that Canadian publishers, Raincoast, have now released a poster marking the release date of book. You can choose from two versions of the poster (high & low) by going here

.