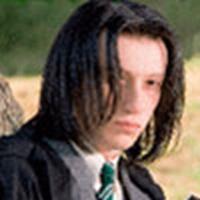 Young Snape
Young marauders & more images from 'OotP'
February 21, 2007 at 9:02 PM ET
Geri HPANA

harry potter and the order of the phoenix movie, order of the phoenix movie, ootp movie
---
Two new images from Harry Potter and the Order of the Phoenix have appeared online featuring a young Snape as well as one of the young marauders.
Thanks to HarryLatino for the images.
UPDATE: Once again thanks to HarryLatino for letting us know about an image featuring a younger version

of the Order.
UPDATE II: Another picture featuring Harry

can be found on UHP

, you can also view a new picture of Tonks here

.

Thanks guys.