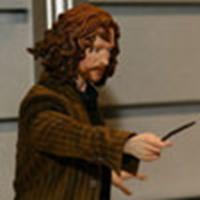 Sirius action figure
'Potter' products galore
February 11, 2007 at 8:17 PM ET
Geri HPANA (via Various)

harry potter and the order of the phoenix merchandise, order of the phoenix merchandise, ootp merchandise
---
With Harry Potter and the Order of the Phoenix set to open in July, the shelves are going to be loaded with products from NECA, Cards Inc., LEGO and Gentle Giant. Some of the products include action figures of characters, LEGO castles, lunch boxes and mini-busts of Luna and Merpeople.
You can see pictures of the items at the links below:
Snape and Dementor action figures can be seen here

.
NECA action and plush figures of Sirius, Hagrid and more, as well as the LEGO Hogwarts Castle can be seen here

.
You can also see pictures of NECA's products here

.
Merperson

mini-bust and Luna

mini-bust from Gentle Giant.
Stickers

featuring the cast of Order of the Phoenix.
Building Cards Hogwarts School of Witchcraft and Wizardry from

Klutz Building Cards
Thanks to TLC

, HPFZ

, Sylvan Lane Shoppe

, NECA

and Portkey

for all the pictures.
UPDATE: You can see additional images from toy fair here

of items from NECA

.