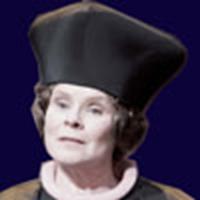 Dolores Umbridge
New Umbridge & Dumbledore pictures
February 11, 2007 at 11:35 AM ET
Geri HPANA

harry potter and the order of the phoenix movie, order of the phoenix movie, ootp movie
---
Two new images of Professor Dolores Umbridge and Headmaster Albus Dumbledore from the upcoming Harry Potter and the Order of the Phoenix movie have appeared online.
Thanks to HarryLatino

for the pictures.
UPDATE: Because of issues on the original site, I've loaded the pictures to our site, please see below:
Thanks to UHP

you can see some pictures of French products here

tied into the movie. The pictures include the Ministry of Magic logo, posters of the Hogwarts Express, Fawkes, Nagini, the Dark Arts and more.
Additionally, you can see scans of a diary picture of Harry and Hermione here

and here

a calendar scan featuring Harry and Ginny. Thanks again to UHP and Petronella for the scans.