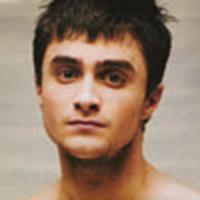 Dan Radcliffe
Update: Dan discusses 'Equus' & 'Potter'
February 10, 2007 at 6:34 PM ET
Geri HPANA (via Times Online)

daniel radcliffe, dan radcliffe, equus
---
In another very interesting interview

with Harry Potter star Daniel Radcliffe we find out more about his working on "Equus," his feelings on shooting the last scene of the last movie and briefly some information about working on the sets of the movies and more.
Dan mentions the advice Gary Oldman gave on being naked on stage:
He said the first night is terrifying, the second is pretty scary, and after that you don't care. When you do it in a cold room and you are nervous, everything goes a bit shy down there, but I have been assured it will be nice and warm on the night. We have done the nudity scene twice with our clothes off, and my acting improved so much. It's hard to show that vulnerability you need for nakedness with your clothes on. Now I get them off at the drop of a hat.
Dan on filming the last scene of the last movie:
When I've shot the last scene of the last movie, I will be devastated. Harry Potter has provided my friends, seen me through my exams. I've had my first girlfriend, my first kiss. It's been my life.
Dan discusses Harry:
I want him to die because I have a melodramatic yearning for a death scene. And the prophecy in the fifth book says only one of Harry and Voldemort can live. Or is it that neither can live while the other survives? Oh God, what is it? The fans will kill me if I've got that wrong.
The article also mentions that Dan has signed on for the last two movies, please treat this as a rumor until confirmed by the studio.
Thanks to Anne for letting us know of another interview

in which Dan discusses the movies and working on Equus. Interestingly, in this interview Dan mentions running into JK on the set of Order of the Phoenix and saying this of the encounter:
Jo came down to the set at one point and I said, "Oh hello, why are you here today?" And she said, "Oh I just needed a break from the book - Dumbledore's giving me a lot of trouble." And I said, "But isn't he dead?" And she said, "Well, yeah, but it's more complex ..." I was like, [briskly] "OK, I'm not gonna ask anything else!"
UPDATE: You can view scans of the Observer interview here

, here

and here

(parents, please beware that the last picture is a bit revealing of Dan for his role in Equus). Also, scans of the Times article are available here

here

. All courtesy of DR.co.uk

.