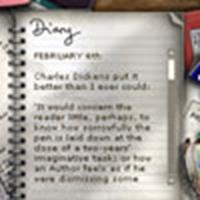 JK's diary entry
'Deathly Hallows' is JK's favorite
February 6, 2007 at 10:26 AM ET
Geri HPANA (via JKRowling.com)

harry potter and the deathly hallows, deathly hallows, hpdh, book 7, jkr rowling, jkr, jo rowling
---
Harry Potter author JK Rowling has updated

her diary with news that her favorite book in the series is Harry Potter and the Deathly Hallows and what better way to end.
She also says:
Some of you have expressed a (much more muted!) mixture of happiness and sadness at the prospect of the last book being published, and that has meant more than I can tell you. If it comes as any consolation, I think that there will be plenty to continue arguing and speculating about, even after Deathly Hallows comes out. So if you're not yet ready to quit the message boards, do not despair...
Ms. Rowling has also added some thoughts to her rumors section

and answers two

frequently asked questions.
Thanks Helena.