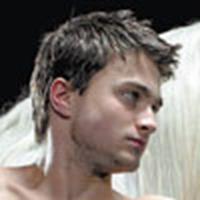 Dan from 'Equus'
Update: Promotional images of Daniel Radcliffe from 'Equus'
January 29, 2007 at 11:27 AM ET
Geri HPANA (via DanRadcliffe.com/DanRadcliffe.co.uk)

daniel radcliffe, dan radcliffe, equus, richard griffiths, joanna christie, daniel radcliffe shirtless, harry potter shirtless, harry potter nude, daniel radcliffe nude, dan radcliffe naked
---
New promotional images featuring Harry Potter actor Dan Radcliffe in his upcoming West End production of Equus are now available for fans.
Producer David Pugh says of Dan:
There was no hesitancy about taking off his clothes.
He has a confidence in his own appearance. With the performances that I've witnessed, when that boy takes his shirt off, Harry Potter has flown out of Hogwarts for good.
Equus, also starring fellow Potter actor Richard Griffiths, begins previews on February 16 and the official opening night is planned for February 27.
Please note that these photos contain quite a bit of bare skin, which has caused a fair bit of concern

, according to the New York Times: