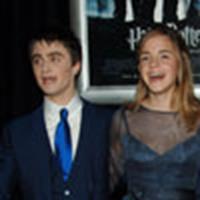 Dan & Emma
Potter stars rank high on entertainment lists
December 21, 2006 at 8:27 PM ET
Geri HPANA (via News Tips)

daniel radcliffe, dan radcliffe, emma watson, katie leung
---
Now that news has somewhat died down in reference to the title of the last Harry Potter book we bring you news that actors Daniel Radcliffe, Emma Watson and Katie Leung have appeared on the '25 stars for 2006' and 'The Razz Hot 100' lists.
Dan and Emma appear on the Starmeter: Top 25 for 2006

list once again this year. Dan at number 22 (previously number 18) and Emma at the 16th spot (previously number 15).
Meanwhile Katie Leung ranked

fourth on 'The Razz Hot 100' list, which features 100 Scots with talent.
Thanks to Page

and MJ for the tips.