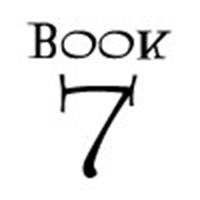 Book 7
Reservations for book 7 being taken at Borders book stores
December 13, 2006 at 10:13 AM ET
Geri HPANA

harry potter 7, harry potter book 7, book 7
---
We have been receiving numerous emails letting us know that Borders book stores in Indiana and New York are now accepting reservations for the last Harry Potter book, even though no information has been announced in reference to the title or a release date.
From an email:
Here in Bloomington, Indiana, at the Borders Book Store at 2634 E. 3rd St, they are accepting reservations for Book 7. I was there for other business yesterday and was surprised to see the reservations sign at the information desk. When I asked about it, the manager said they couldn't take reservations yet because they didn't have a release date. I pointed out the sign to him, which he was surprised to see out. One of the other managers had written a note on the back that they were starting to take reservations, even though the release date hadn't been made public. They had also written a number (an SKU?), which he entered, and sure enough - put my name on the list. I don't know if this is happening nationwide, but the reservation process has at least started here.
Thanks to everyone who emailed and we will update with any additional information we find out.
On another note, a very interesting read can be found here

in which predictions are made on the last book in the series.