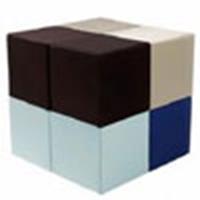 Dan's bed for charity
Dan designs furniture for charity
December 5, 2006 at 7:51 PM ET
Geri HPANA (via Various)

daniel radcliffe, dan radcliffe
---
Dan Radcliffe from the Harry Potter movies has designed a piece of furniture store Habitat

, a furniture store in the UK. His creation, a "cu-bed," a kind of a soft rubik's cube that can be transformed into a bed or a barricade or a hiding-place.
All proceeds from the sale of this piece of furniture, which will go on sale in February, will be donated to Dan's charity of choice, Demelza House

.
According

to Caroline Cooren-Gleizak, Director of Communications of Habitat (in French):
We asked several personalities to design the object or the piece of furniture of which they would have dreamed of as a child.
Additional personalities asked to participate were Kate Winslet and Buzz Aldrin, the astronaut.