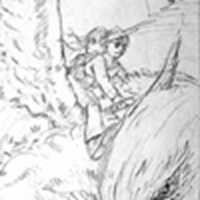 'PoA' sketch
Unpublished sketch of 'PoA' book cover to go on sale
November 30, 2006 at 12:08 PM ET
Geri Wizard News (via Daily Mail)

harry potter and the prisoner of azkaban, prisoner of azkaban, poa
---
A sketch of the cover that was never used for the Harry Potter and the Prisoner of Azkaban book by Cliff Wright is scheduled to go on sale this weekend for £8,500. Mr. Wright, who had input from JK in reference to the image of the hippogriff, was somewhat disappointed that this version of the cover didn't make publication.
According to the article

:
The sketch shows Harry and his friend Hermione Granger on a hippogriff, a cross between a horse, lion and eagle. Mr. Wright said: "In some ways I prefer the sketch to what ended up on the cover. It's more dynamic: in the final version, the hippogriff is not moving quite so fast. JK Rowling herself faxed over an image of what she thought the hippogriff should look like."