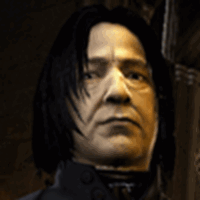 Prof. Snape
EA Games announce 'Phoenix' game, screenshots
November 21, 2006 at 10:50 AM ET
Geri HPANA

harry potter and the order of the phoenix game, harry potter and the order of the phoenix video game, order of the phoenix game, order of the phoenix video game, ea games
---
In August HPANA reported from a visit to EA Games in the UK. The report covered a review of the Harry Potter and the Order of the Phoenix video game under development and now the good folks from EA have sent us four screenshots of Harry, Ron, Hermione and Prof. Snape.
According to the press release

:
Harry Potter and the Order of the Phoenix is the first in the franchise that we have developed for the next generation consoles," said Harvey Elliott, Executive Producer at EA UK. "Together with current generation versions, we are creating an immersive and, above all, faithful Harry Potter experience that will both accurately reflect the world showcased in the film and also delight fans of all ages."
"Working with EA, we look forward to offering fans the most authentic Harry Potter game to date, one which captures the compelling story of the fiction and high visual quality of the movie," said Jason Hall, Senior Vice President of Warner Bros. Interactive Entertainment. "After reading the book and seeing the film, fans will be able to take advantage of the complete interactive experience with Harry Potter and the Order of the Phoenix game."
The close and synergistic relationship between book, film and videogame is more defined in the Harry Potter and the Order of the Phoenix videogame than ever before. Players will be able to explore the many key locations within Hogwarts in minute detail, each one a visual match to its film equivalent, while being engrossed in the thrilling adventures outlined in the rich narrative of the book.
The game will be released in the following formats: Nintendo Wii™, PlayStation®3, Xbox 360™, PlayStation®2, PSP® (PlayStation®Portable), Nintendo DS™, Game Boy® Advance, and Windows PC in July 2007.