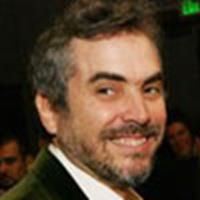 Alfonso Cuarón
Alfonso would love to return to Potter franchise
November 17, 2006 at 6:21 PM ET
Geri HPANA (via JewReview.net)

alfonso cuaron
---
Alfonso Cuarón, who directed Prisoner of Azkaban, recently spoke

about possible future projects while doing publicity for his new movie Children of Men and mentioned wanting to return to directing a Potter movie
Alfonso commented:
I would love to have the opportunity to revisiting the Harry Potter universe. It's an amazing experience to do those films because while you're doing those films, you're surrounded with this amazing beneficial energy. Everything around the JK Rowling creating - I'm not talking about the film franchise but the creation of JK Rowling i impregnated with this amazing beneficial energy. So for me, it was two amazing years of my life, and I wouldn't mind at all revisiting that.
Additional comments by Alfonso can be found here

from the same interview.