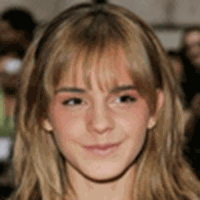 Emma Watson
Emma Watson at Oxford University
November 13, 2006 at 10:14 AM ET
Geri The Leaky Cauldron

emma watson, harry potter
---
Emma Watson, Hermione Granger from the Harry Potter movies, spoke yesterday at Oxford Union at Oxford University. Emma discussed what the directors taught her and how she's scared of the end of Harry Potter. She also mentions Evanna Lynch, finding the sets exciting, not being happy with blue screen filming and how she fell down the stairs while rehearsing the Yule Ball entrance for Goblet of Fire.
You can read the full report here

but a snippet is below:
Emma said being an actress is about trust. Unlike her character, Emma took three years to let go of her vanity and become Hermione, she said. Initially conscious that she could be teased for wearing the woolly jumpers Hermione had to don, she finally learned to let it all come naturally and fit into the role. Emma loves to learn, and stated this repeatedly throughout the evening.
She identifies the different directors by what they taught her.
'Alfonso Cuarón taught me about beauty', Mike Newell taught her that, 'acting just wasn't enough', and David Yates 'taught me about finding truth.' After five films and many great directors and actors about her to inspire, she has finally got to grips,' she said.
She went on to speak about the nitty gritty of acting, the technical elements so rarely seen in the final product.
'I find blue screen really difficult,' perhaps because it was 'depressing being surrounded by blue all the time,' she said.