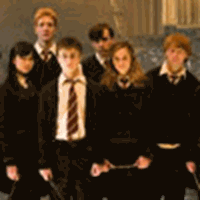 'Order of the Phoenix'
Description of 'Phoenix' teaser trailer
November 8, 2006 at 12:25 PM ET
Geri The Leaky Cauldron (via Dissendium)

harry potter and the order of the phoenix movie, order of the phoenix movie, order of the phoenix teaser trailer
---
A detailed description

of the teaser trailer for Harry Potter and the Order of the Phoenix has appeared online.
The trailer will debut in theatres with the Warner Bros. animated film Happy Feet starting Friday, November 17.
Order in the Phoenix is due out next summer.
UPDATE: Thanks to Pamela for giving a description of the teaser trailer that appears in front of Happy Feet, which she got to see this weekend.
I just saw the trailer for Order of the Phoenix and it is awesome!! Harry does have a new hair cut and they do show the kiss with Cho. Dumbledore is presenting evidence to the wizengamot and they even show Sirius Black. The shot of Bellatrix is awesome but incredibly brief as well. All in all it looks like it is going to be a fantastic film (as if there was any doubt).
I know the trailer isn't to be released until the 17th, but I live on a military installation and got to see an advance viewing of Happy Feet so that is how i saw the trailer so early.