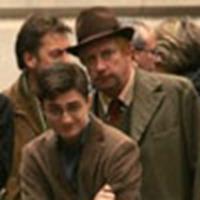 Radcliffe & Williams
New set pics from 'Order of the Phoenix'
October 22, 2006 at 8:51 PM ET
Geri The Leaky Cauldron (via Real Movie News)

harry potter and the order of the phoenix movie, order of the phoenix movie, daniel radcliffe, dan radcliffe, mark williams
---
Some new pictures featuring Daniel Radcliffe and Mark Williams (Mr. Weasley) filming

a scene from Harry Potter and the Order of the Phoenix have appeared online. The images show Mark and Daniel taken today entering a telephone box near Scotland Yard in London.
The train station used was closed earlier today

so that filming could take place and you can view all the pictures here

.
UDPATE: Additional pictures

of the location, courtesy of London Taxi Tour

have also appeared. Thanks Don.