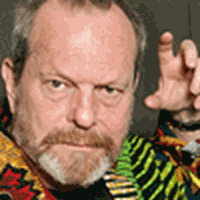 Terry Gilliam
Terry Gilliam: Warner Bros. "blew it"
October 16, 2006 at 11:55 AM ET
Geri HPANA (via Various)

terry gilliam, harry potter
---
While on a press junket for his new movie Tideland, director Terry Gilliam

answered questions as to why he hasn't directed a Harry Potter movie or if he will in the future.
When asked

if he would direct any of the movies, he said:
No. It's a factory job, is what it is. I don't like that. It's a big operation the way they run it now, and it's so heavily controlled by the studio, considering the kind of work i want to do. But it doesn't stop people on the web fantasizing about me doing the last one.
According

to Mr. Gilliam Prisoner was the best in the series so far:
MTV: What would your Potter have been like?
Gilliam: Alfonso Cuaron's [Prisoner of Azkaban] is really good, but the first two I thought were just shite. They missed the whole point of it; they missed the magic of it ... Alfonso did something much closer to what I would've done.
Thanks to Tim and TLC

for the links.