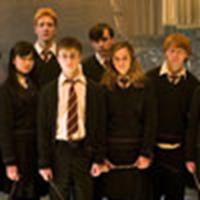 'Order of the Phoenix'
More news on 'Order of the Phoenix'
October 12, 2006 at 7:29 PM ET
Geri HPANA (via Various)

harry potter and the order of the phoenix movie, order of the phoenix movie, rupert grint
---
With Rupert Grint in New York for promotion of his latest movie Driving Lessons, he mentions in an interview that his filming of the Thestral scene was his favorite so far from Harry Potter and the Order of the Phoenix. By the way, congratulations to Rupert for passing his driving test this past weekend.
Rupert on Order filming

:
You were recently getting ready to film the Thestral scenes in the fifth Harry Potter movie. Have you finished those yet?
Rupert: Yeah, we did those the other day. It was really a good time because they had to make a mold, a specially made harness that goes under your legs, because in the film it has to be invisible. [The Thestral is a magical horse-like creature that is only visible to those who¹ve witnessed death.] They put you on this crane and lifted you up in the air. That's been my favorite scene so far.
And that was done on a green screen?
Rupert: Yeah. We¹re working on a lot of the final scenes now, the Dumbledore's Army stuff.
In other news, a partial report from a recent set visit has appeared

online and points out that director, David Yates, is a perfectionist and that Katie Leung feels very lucky to be chosen for the movies.
What was different on our second Harry Potter set visit was that we finally got to talk to Katie Leung, whose Cho Change role was coveted by many girls from around the world, including Chinese-Filipinas who sent letters, photos and audition tapes to the producers. "I feel that I'm very lucky to be chosen out of so many girls," the Scottish-Chinese Katie told us. She gets to kiss Daniel in this fifth film adaptation of J.K. Rowling's phenomenally successful series of books. "Yes, Daniel is a very good kisser," Katie confirmed when asked. "Yeah, I really enjoyed it (the kiss)."
In another interview

, Rupert says that he will definitely be staying till end of the series.