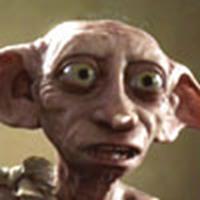 Dobby
Kreacher in, Dobby out of 'Order of the Phoenix'
October 6, 2006 at 4:40 PM ET
Geri Yahoo! News (via MTV Music Television)

harry potter and the order of the phoenix, order of the phoenix, toby jones, dobby, kreacher
---
Toby Jones, the voice of Dobby from Harry Potter and the Chamber of Secrets, confirmed

in a recent interview that his character will not be making an appearance in Order of the Phoenix.
Jones remarked:
I know that the filmmakers have a problem with each new film because the books are getting longer — there's so much to include in them.
Jones also commments on being in the second movie, Chamber of Secrets:
The thing I feel very, very proud of is the fact that I get mail just about every week of the year from all parts of the world — very nice mail thanking me for that way I voiced the character and saying how accurately I did it. So it's a great addition to my life and a very unexpected one. I had no idea that the character would have that much impact.
The article also mentions that the character of Kreacher will be in the movie and that sharp eyed fans should be on the look out for clues that may happen since JK Rowling told screenwriters what is important to include in the movie adaptations.