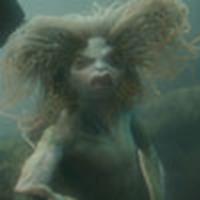 'Goblet of Fire'
Secrets from 'Goblet of Fire' underwater sequence
September 27, 2006 at 2:24 PM ET
Geri HPANA (via vfxtalk.com)

harry potter and the goblet of fire, goblet of fire
---
Even though pictures are popping up from Order of the Phoenix, a new interview with the creative personal that worked on the underwater sequence on Harry Potter and the Goblet of Fire has appeared online. The creative team from VFX Masters at Framestore CFC discusses

the process and challenges involved.
What types of techniques did you develop to integrate better live action with a virtual sub-aquatic ambient?
TW: We studied the effects on an image of underwater camera housings quite closely. There are actually two types of underwater camera housing - flat port and domed port. Our live action material was shot with a domed port, so we matched the effects of these but we also added a little of the effects of a flat port (like chromatic aberration) to add to the underwater feel.
We ensured we kept our CG cameras "bouyant" and had plenty of "grunge" floating around in the water with lots of diffusion on distant objects.
How much of the actual Harry was shot in the underwater blue-screen setup?
TW: About two thirds. The wider shots and one or two close up moments which were unachievable in a tank were done in CG.
What was by the far the biggest challenge in term of visual effects in this movie, and how did you overcome them? Was there a different treatment? A new technique? Which sequence was the hardest to work on, and why?
IM: The underwater sequence was incredibly challenging, particularly when you look at the plates we started with: actors on bluescreen. It was quite daunting and challenging to have to create a believable cg environment and populate it with cg creatures. There have been some films before that have looked at underwater effects but nothing quite on the scale of this!
RA: For me dealing with ultra craggy rocks and dealing with so much of them (rendering occlusion on heavily displaced objects) and meeting the clients brief regarding the look. Also achieving the look on the Mermaids. Such liberal use of subsurface scatter was new for me.