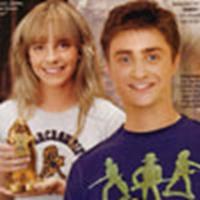 Emma & Dan
Dan & Emma accept Penguin Awards on 'Order' set
September 23, 2006 at 11:24 PM ET
Geri Harry Potter Fan Zone (via Various)

daniel radcliffe, dan radcliffe, emma watson
---
A new picture of Daniel Radcliffe and Emma Watson accepting their '2006 Best Actor/Actress Golden Penguin Awards' has been published in the Austrian magazine 'Xpress.' The picture was taken on the set of Harry Potter and the Order of the Phoenix a few months ago.
You can view the article here

courtesy of EW.net

and you can read a translation on SnitchSeeker

.