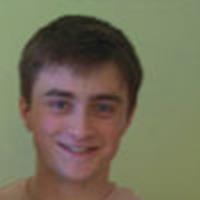 Dan Radcliffe
Dan on 'Extras' & working with Ricky Gervais
September 6, 2006 at 8:18 PM ET
Geri HPANA (via DanRadcliffe.com/DanRadcliffe.co.uk)

daniel radcliffe, dan radcliffe, extras, ricky gervais
---
In two recent interviews Daniel Radcliffe from the Harry Potter movies talks about

his role in the upcoming episode of Extras.
Daniel revealed how his participation on the show started:
They saw me on the Jonathan Ross show and said, 'Hey, he'd be great.' And so they contacted my agent and it all sort of went from there. I agreed to do it because I was such a fan of Ricky Gervais and the series of Extras. I agreed before I had seen a script or anything. I knew the vague outline for it, but I hadn't actually seen the dialogue and stuff. I remember I was in Australia and my dad and i had to talk to him about it because he wanted to just chat with me about it. I called him and we chatted for half an hour about the episode. It was a really great moment for me to talk to him. A couple of months later we were sent the script. It was great - and it was very, very funny. I filmed it a couple of weeks ago.
You can read the rest of the interview here

on DR.com.
An additional interview with Dan can be found here

as well as a sound clip from the interview.
Daniel describes working with Ricky:
Ricky's lovely, he's really, really nice, you know, he and Stephen Merchant. Very lovely, and very, very funny in real life. I heard that Ricky Gervais was very high practice and very, you know, mad and but I think he's full of energy. But he wasn't to an insane degree, although Stephen Merchant assured me that he was behaving himself. No, I don't think I would have turned it down. It's nice to sort of work with people who are at the forefront of comedy at the moment and it's... If I had seen the script before, it wouldn't have made any difference because it's very, very funny and it's very rare that a scene in the script makes you have the reaction that the audience will because it, because you're not there. It's harder to imagine, but I did actually find myself laughing out loud at the script.
Both sites also have scans from publications highlighting the episode that Daniel will appear in, which airs on BBC2 on Thursday, September 28th at 9:00 pm.