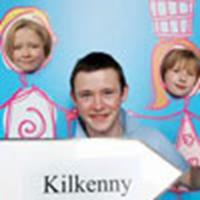 Devon Murray
Devon Murray wants kids to help kids
August 30, 2006 at 7:47 AM ET
Geri HPANA (via Kilkenny Advertiser)

devon murrary, unicef
---
Devon Murray, (Seamus Finnigan) from the Harry Potter movies, recently kicked off

off UNICEF Ireland's Kids Helping Kids

campaign. The campaign hopes to raise €100,000 ($128,172), with funds going directly to support UNICEF programs to bring safe water to children caught up in emergency situations.
Devon, who is from Kildare, launched this year's campaign at a children's party and said:
UNICEF Ireland want children right across the country to get involved in this year's 'Kids Helping Kids' campaign. There are lots of ways to have fun and raise money for UNICEF's safe water programmes for children at the same time.
Please join this year's campaign - it's a great event that everyone can easily participate in!