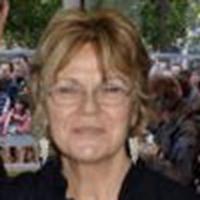 Julie Walters
Julie Walters on the 'Potter' movies, writing & acting
August 17, 2006 at 2:56 PM ET
Geri Yahoo! News (via Daily Record)

julie walters, rupert grint, harry potter
---
In a new interview with Julie Walters, (Molly Weasley), from the Harry Potter movies, Julie discusses writing her first non-fiction book, working on Driving Lessons with Rupert Grint and how she found out who died in the most recent Potter book.
Julie on being recognized by fans and her character:
You wouldn't believe how many kids recognise me, and want the autograph of Mrs Weasley.
Even if the part in the films isn't really that large, it's lovely to be appreciated.
A story went around not so long ago that I was an avid reader of the Harry Potter books, and that I rushed to the bookshop every time a new one appeared on the shelves. Well, it's not quite true.
What happened was that someone once spotted me rifling through the new book at a store - know what had happened? I'd heard the rumour that one of the characters was going to be killed off by JK Rowling, and I was just checking on my insurance.
I came to the words 'Mrs Weasley', realised that she wasn't the one who died and felt very relieved as a result. The work goes on.
Ms. Walters had this to say on working with Rupert Grint in a non-Harry Potter vehicle:
...a very fine actor. He has great comic timing, and a terrific screen presence as well as a marvellous sense of humour.
I love the time that I'm in his company. He is a terrible giggler. He sees or hears something funny, and he's away. I see his shoulders start to twitch and I'm off too.
But he's grown up so much in the last few years. At the premiere of the first Harry Potter film, my husband Grant turned to me, pointed at the three young stars, and said 'Look at them, poor things'.
Ms. Waltes will film her scenes for Harry Potter and the Order of the Phoenix this autumn.