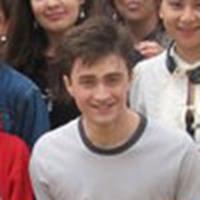 Dan on 'Phoenix' set
New photo of Dan from the 'Phoenix' set
August 12, 2006 at 5:55 PM ET
Geri Veritaserum

daniel radcliffe, dan radcliffe, harry potter and the order of the phoenix movie, order of the phoenix movie
---
Nínive, a Harry Potter fan from Brazil had the great opportunity of meeting actors Daniel Radcliffe, Imelda Staunton (Professor Umbridge) and a red-haired Natalia Tena (Tonks) this past week on the set of Harry Potter and the Order of the Phoenix.
Nínive had a chance to visit the set after winning a contest, held by SBT

in Brazil. You can see the group photo from the set here

.
Thanks to Oclumencia

via VTM

for the photo.